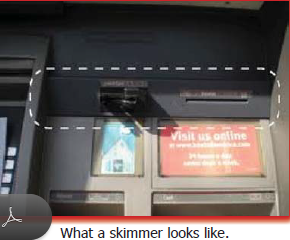 You may be giving a thief your credit card information and all it takes is a swipe of your card on a device with a skimmer. Skimmers are nothing new, but they continue to be a way for thieves to get your valuable data.
In their recent Summer 2012 Quarterly newsletter, Bath Township, Ohio police issued a warning to be on the look out for these skimmer devices after one was discovered in May at a bank on Springside Drive.
This has been an ongoing issue in the Akron and Cleveland area and I thought it would be useful to publish the alert below. To find the original newsletter publication click here.
" The daily use of bank debit cards has become an afterthought to many people. Their widespread use has replaced checks and cash in consumer transactions. This new electronic banking is an easy target for criminals. Thieves can steal your ATM or debit card information without your knowledge.
The scam known as "skimming" is the trending crime across the United States and Canada. Bank card skimmers are devices the criminal places over the actual ATM card receptacle. The skimmer reads your card's magnetic strip containing your account information. Once the criminal has this information he depletes your account or makes unauthorized purchases at local retail stores.
On a recent weekday in May, skimmer devices were placed on local ATMs. An alert bank teller noticed the device and contacted the Bath Police Department. Officers Michael Gabel, Vito Sinopoli, and Daniel Reilly responded to the bank teller's call on Springside Drive. Officer Reilly spotted two subjects attempting to flee the area. The officers apprehended two men from Toronto,
Canada.
Investigation by these officers revealed that the subjects are part of an organized group based in Toronto. The subjects cross the border to place the devices on ATMs throughout the midwest states. Then, within a few days, they return to Canada hundreds of thousands of dollars richer.
Residents can take a few simple steps to protect their accounts:
First, take a good look at the ATM before you use it.
Be suspicious if the card receptacle looks like it is protruding too far.
Do not be afraid to give the card receptacle a tug.
Always scan the area for suspicious persons loitering in the area.
Use your freehand to block the view of the keypad from others when entering your PIN.
Notify the police or the bank employees if there is someone near the ATM making you uncomfortable.
By being aware of your surroundings at the ATM and checking your credit statements monthly, even the most cutting edge criminal should be detered from harming your account."